Sumi Hwang Soprano
Helmut Deutsch Piano
» Wednesday 28 October 2015, 7.30pm
» Wigmore Hall
» TICKETS £16 - £30
"In Berg's "Seven Early Songs", Hwang deployed those top notes at full wattage." (Washington Post)
Korean soprano, Sumi Hwang, is a rising star of the opera world. "Though she is still young, she has a mature, well-tuned, and light voice" (La Scena). She makes her London recital debut next Wednesday 28 October at Wigmore Hall with the "electrically alert pianist" (The Telegraph), Helmut Deutsch. We spoke to Ms. Hwang ahead of her Rosenblatt Recital:
Your Rosenblatt Recital will be your London recital debut, what are you most looking forward to about visiting and performing in the UK's capital?
I have been to London several times already and am always delighted to visit, as the city makes me feel alive. I am particularly excited for this visit because of my Wigmore Hall debut with Helmut Deutsch, and am looking forward to performing before another London audience. I hope to give them an evening filled with heart-warming music.
What was it that first brought you to opera? Did you notice any cultural differences towards classical music in Europe, especially when you studied in Munich, compared to your time in Seoul?
Since my childhood, I have loved to sing and dance on stage in front of an audience. When I was 15 years old, I saw my first opera - Puccini's La Bohème - and it was clear to me then that I wanted to become an opera singer. Many young people in Korea are interested in classical music, and in fact many Asians are already studying and performing classical music in Europe today. I believe this trend will increase, as more young Asians become classical music fans and want to study the subject seriously.

I had a terrific music education in Korea, but I wanted to delve into the subject further to have a firmer emotional and sensual understanding of the texts and music. I moved to Germany so that I could see, hear, touch and feel the music in the place where classical music began. Moving to Europe was a wonderful choice for me, and I think this is a crucial step that every musician should make.
You've won many competitions already in your career, including the Queen Elisabeth Competition and the Emmerich Smola Förderpreis, both in 2014; what is your proudest achievement so far in your career?
Yes, 2014 has been the most unforgettable year of my entire life, and I am very fortunate. When I look back on those moments, it still all seems like a dream to me. I must say that I was not the most outstanding student until my senior year at the University in Korea, but I can say I was a very sincere student who had a dream and a desire to become an opera singer. These prizes showed me that others had recognised my technical facility and talent, and it was exciting to see the fruits of my hard work.

I am definitely pleased with the prizes I have won and proud of the hard work that has got me there, but I am even more excited about my upcoming future and to continue my hard work I hard work to become an even better musician.
You've collaborated a lot with Helmut Deutsch, who will be playing for your Rosenblatt Recital, how did this collaboration come about, and what's your favourite performing memory with Helmut?
This will be my fourth recital with Helmut Deutsch, the first was in the Bonn Theater and the other two were in Korea, and all were huge successes. Although I studied in Munich at the same time as he taught there, I was not his student, and we first met at a masterclass that ended up lasting 2 hours.

A year later he was on the jury of the Queen Elisabeth Competition, and afterwards he offered me the chance to perform with him during his Concert tour in Korea. It was so amazing that the legendary pianist came up to me and asked if I would like to work with him! I did not hesitate to say "Really? YES!!!" He is an amazing pianist whose accompaniment really helps me to imagine more colourful ways to sing. He is a big supporter of mine and I'm so honoured to sing with his accompaniment!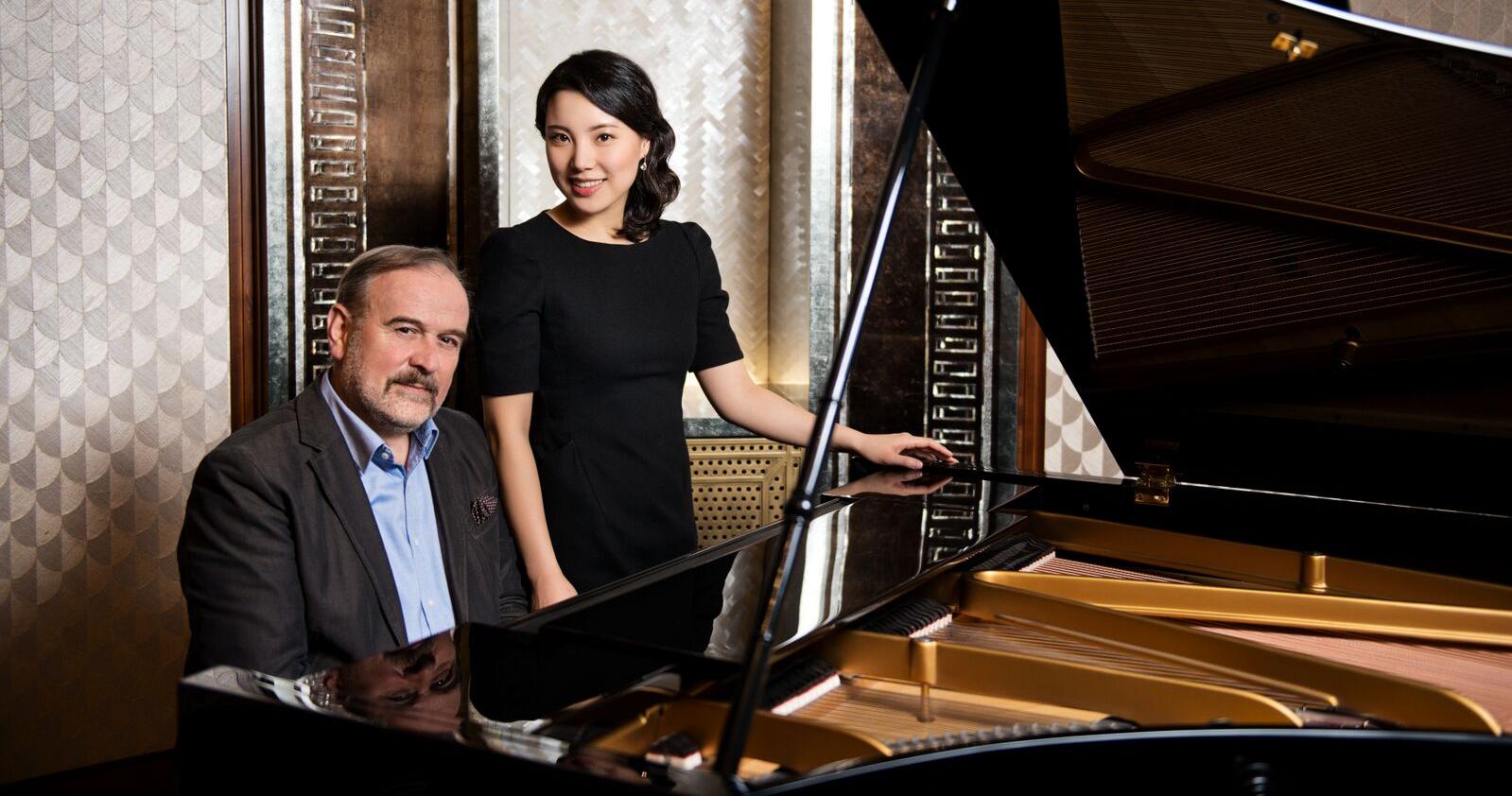 Sumi Hwang and Helmut Deutsch
Your recital programme varies all the way from Schubert to Berg's 7 frühe Lieder, tell us a bit about what made you choose such an interesting selection of repertoire.
Helmut and I chose four different composers whose repertoire we have already performed and 2 Opera Arias: Mimi and Manon. Alban Berg's "7 frühe Leider" is one of my favourite song cycles, and is, in fact, what I sang during my first Masterclass with Helmut!
What are your highlights for the forthcoming season with Theater Bonn, and what other exciting projects are there to look forward to?
In December I will sing a role debut as Fiordiligi in Cosi fan Tutte and I will sing in a Silvester / New Year's Concert with Tonkuenstler Orchestra at Musikverein in Vienna. In early 2016 I will appear as Lena in Vom Mädchen, das nicht schlafen wollte and in March 2016 I will be giving another Liederabend with Helmut Deutsch at the Park Hyatt in Vienna for the "Salon am Hof" series. It is sure to be an exciting season and I am very much looking forward to my upcoming performances!
Remember, you can get 25% off tickets when you book Sumi Hwang and Quinn Kelsey's recitals simultaneously. We do hope you can join us.
With best wishes from everyone at Rosenblatt Recitals
---
From our friends...

www.operaprelude.com


Opera Prelude is a small charity, dedicated to giving experience and fairly paid employment opportunities to some of the country's finest young singers at the start of their careers, hosting lecture recitals, concerts, operas, workshops and Masterclasses in the Cadogan Hall and other prestigious locations. Our affordable, friendly and inclusive events form a bridge across the footlights, introducing you to young opera singers and their diverse enriching art form.

Opera Prelude is delighted to offer free lecture recital tickets to the first 5 Rosenblatt Recitals newsletter subscribers who apply (subject to availability). To redeem the offer, please email operaprelude@gmail.com or telephone 07908 894 333 and mention the Rosenblatt Recitals. Programme details may be found on our website.