Dear subscriber,
We are delighted to announce the line-up for the 17th season of Rosenblatt Recitals, which includes eight concerts at Wigmore Hall plus one concert at Cadogan Hall. For our valued e-newsletter subscribers we also have an exclusive ticket offer for the new season to thank you for your continued support. Don't forget, there is still one recital left in our 2015/16 season which we hope you will be able to join us for; on Tuesday 14 June, Rosenblatt Recitals welcomes the great Italian soprano Mariella Devia. Renowned as the queen of bel canto and recently named Female Singer of the Year at The International Opera Awards 2016, Devia has had an illustrious and extraordinary career. Accompanied by Giulio Zappa, Devia will take to the Wigmore Hall stage for a programme of music that includes Ravel, Bizet, Verdi and more.

Rosenblatt Recitals 2016/17
Click on each recitalist to view their artist biographies and peruse their programmes.
Booking is now open for the first four Wigmore Hall recitals and the Cadogan Hall recital, with the second half of the season on sale from Saturday 1 October. A limited number of £5 tickets are available to students and under 35s, subject to availability.
Exclusive Ticket Offer: 25% off the first four Wigmore Hall Recitals of 2016/17
If you purchase tickets for the first four Wigmore Hall Rosenblatt Recitals of the 2016/17 season in one booking, the total cost of your order will be reduced by 25% – effectively giving you one ticket completely free! In order to redeem this offer, just quote 'e-newsletter subscriber' when booking, either in person at the Wigmore Hall Box Office or over the phone, on 020 7935 2141 Please note that this is offer is not available online; all standard tickets are available for purchase via the Wigmore Hall website.
---
Still to come this season...
Mariella Devia Soprano
Giulio Zappa Pianist
» Tuesday 14 June 2016, 7.30pm
» Wigmore Hall
» TICKETS £16 - £30 (£5 for Students & Under 35s)
"She remains a superbly musical singer, phrasing with simple elegance and ornamenting the melodies gracefully and discreetly." Observer
Mariella Devia is an artist that has always remained "…firmly dedicated to the purity of line and technical finish" New York Classical Review throughout a career that began an astonishing 43 years ago. Having quickly found operatic fame in her home country of Italy, following her 1973 stage debut, Devia became a staple performer at the most famous and revered opera houses across the globe. During a long running engagement with the Metropolitan Opera, between 1979 and 1994, Devia also performed at La Scala, Milan, the Gran Teatre del Liceu, Barcelona, and London's Royal Opera House, at which time she "…underwent a reputational transformation from respected to revered" The New York Times. In June 2014, she made her celebrated return to Carnegie Hall, New York for a sole performance of Donizetti's Roberto Devereux, a recital that was met with rapture from the audience and critics alike, leading the Observer to crown Devia "…a monarch who has reigned for more than four decades."
Watch Devia's breathtaking performance of Bellini's Casta Diva (Norma), from her New Year's Day recital at the Teatro La Fenice in 2009: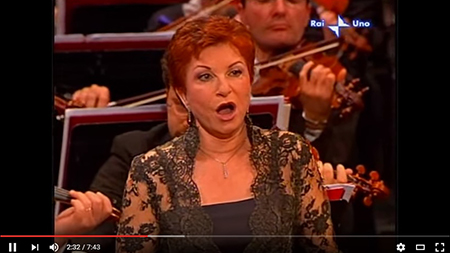 We do hope you can join us.
With best wishes from everyone at Rosenblatt Recitals.